Non-security, non-collateral loans for MSMEs up to INR 200 lakh
Back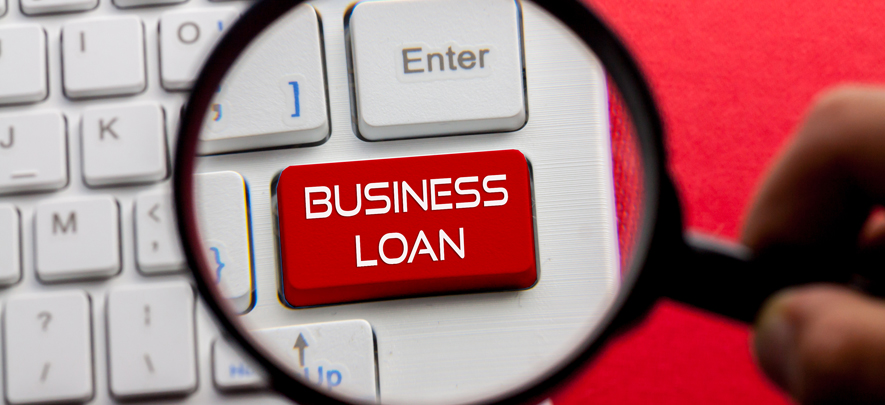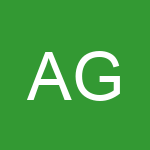 11 Sep 2019, 10:00 — 3 min read
Background: Though MSMEs are the bank bone of the Indian economy, they often struggle to raise funds and even stay afloat. Anil Ganga sheds light on non-security, non-collateral loans for micro and small enterprises up to INR 200 lakh.


The Credit Guarantee Fund Scheme for Micro and Small Enterprises (CGS) was launched by the Government of India (GoI) to make available collateral-free credit to the Micro and Small enterprise sector. The Ministry of Micro, Small and Medium Enterprises, GoI and Small Industries Development Bank of India (SIDBI), registered / established a Trust named Credit Guarantee Fund Trust for Micro and Small Enterprises (CGTMSE) to implement the Credit Guarantee Fund Scheme for Micro and Small Enterprises. The scheme was formally launched on August 30, 2000. The corpus of CGTMSE is being contributed by the GoI and SIDBI in the ratio of 4:1 respectively.


Who is eligible?
All new and existing Micro and Small enterprises are eligible.


Also read: Funding options for Indian SMEs
What is the maximum loan amount and what type of loans that can be availed?

Up to INR 200 lakh can be availed in the form of Term Loan and Working Capital Loan. Please refer to this link for more details.


Who will give this loan?
21 Public Sector Banks (PSBs), 19 Private Sector Banks, 5 Foreign Banks, 3 Small Finance Banks, 8 NBFCs, 51 Regional Rural Banks (RRBs), 9 Lending Institutions are eligible to sanction this loan. Complete list of Bank referred above can be seen here.


Who will provide Guarantee?
Guarantee is provided by Credit Guarantee Fund Trust for Micro and Small Enterprises (CGTMSE) in the following way.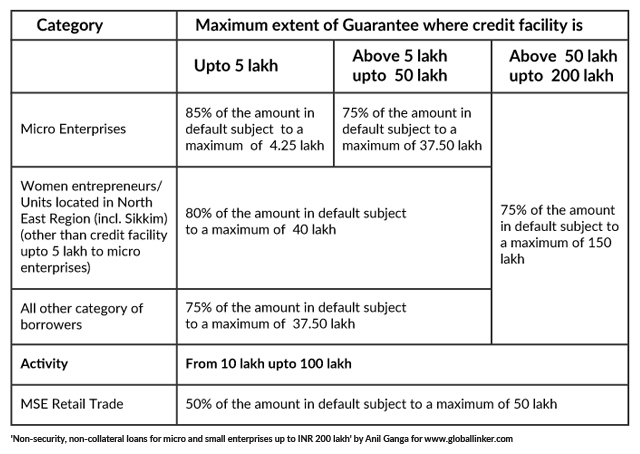 Tenure of Guarantee
The Guarantee cover under the scheme is for the agreed tenure of the term loan/composite credit. In case of working capital, the guarantee cover is of 5 years or block of 5 years.


Also read: Need a loan? Government schemes for MSMEs in India
Guarantee Fee
A composite all-in Annual Guarantee Fee of 1.0 % p.a. of the credit facility sanctioned (0.75% for credit facility up to INR 5 lakh and 0.85% for above INR 5 lakh and up to INR 100 lakh for women, micro enterprises and units in north east region including Sikkim) is now being charged.


For FAQs please refer to this link.


Also read: 6 tips to improve the financial health of your business

Image courtesy: shutterstock.com
To explore business opportunities, link with me by clicking on the 'Connect' button on my eBiz Card.

Disclaimer: The views and opinions expressed in this article are those of the author and do not necessarily reflect the views, official policy or position of GlobalLinker.
Posted by
Anil Kumar Ganga
"Ananya legal LLP" is a full service, dynamic, and trustworthy Corporate Advisory and Legal Consultancy Limited Liability Partnership (LLP) Firm that specializes in a variety of...
More Articles by this author